Heightened Efficiency. Comfortable Interiors.
Commercial Window Film Services
For small storefronts and high-rise office buildings, your windows matter for more than just natural light. That's why our team at Blackout® installs high-quality commercial window films throughout Gilroy and the Bay Area. In turn, we offer the optimal blend of privacy, glare reduction, energy efficiency, and more.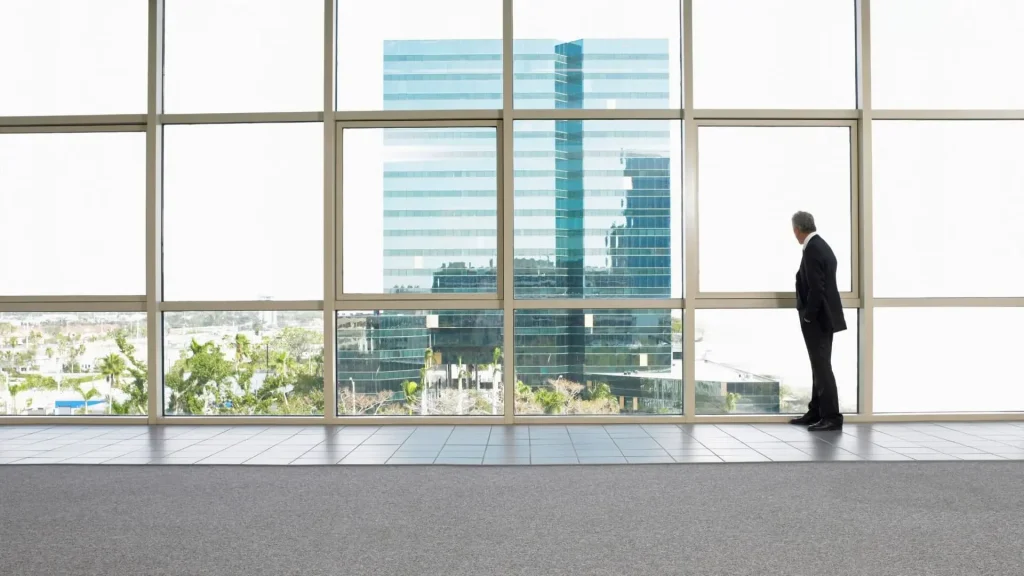 Commercial Window Films Services
From small businesses to large corporations, no window is too big (or small!) for our experts! Our commercial window tinting services use high-quality films rife with benefits, perfect for that high-rise office or bustling workplace. And with 27 years in business under our belts, we're confident that no one does it better.
About Our Custom Window Films
Our team at Blackout® in Gilroy, CA is skilled at printable graphics, adding custom-tailored appeal to storefronts and offices. We invite you to contact us today for a unique design, pattern, or color scheme for your commercial window film. From there, we can determine a custom project quote.
Benefits of Commercial Window Tinting
Trusted by builders, property managers, and business owners in Gilroy and the Bay Area, our office window tinting solutions include many key benefits that clients, employees, and shoppers will recognize. All the while, our commercial window film experts conduct a precise installation to ensure long-lasting resilience. Here's what you can expect.
For a custom quote, our dedicated support team is here to help. Call us at (408) 848-8468 or follow the button below to get in touch.
Why Invest in Commercial Window Film?
Homeowners and business owners always look for ways to upgrade and improve their properties. One way to enhance the value of your property is to consider adding architectural-grade window film to your glass.
For a custom quote, our dedicated support team is here to help. Call us at (408) 848-8468 or follow the button below to get in touch.
Seamless Installation Without Disruptions
Our team at Blackout® understands and respects your day-to-day workflow and operational demands. That's why we install commercial window tints in Gilroy quickly and professionally to avoid interruptions to your business. We completed the project before you even knew we were there.
Year-round, our team supports solar and decorative window films in Gilroy. You can ensure a more stylish, comfortable, and private driving experience by making a reservation today. We are available via phone at (408) 848-8468.
Pros of Commercial Window Film
Regardless of why you opt for residential window films, we are well-versed in virtually any make or model. We are available via phone at (408) 848-8468.
Cons of Commercial Window Film
FAQ
Most Frequent Questions and Answers
Can I apply commercial window film?

Many DIY enthusiasts attempt to apply window film on their own, but it's best left to the professionals for optimal results. DIY applications often lead to bubbles or wrinkles in the film, and when dealing with large windows, it can be quite difficult to get a smooth and even finish.

Is commercial window film worth the cost?

Not to sound biased, but yes! The energy savings alone make commercial window films a worthwhile upgrade, as they block out heat and keep your office cooler during the summer months. This can save you up to 20% on your energy bills! Plus, the films provide extra protection from the elements and reduce glare for better visibility. When you consider all these benefits, commercial window film is a great investment for any business.

How long does a commercial window film last?

The lifespan of commercial window films varies between 5-15 years, depending on the type of film you choose. Of course, how you maintain the film will also factor into its longevity, as regular cleaning and polishing are necessary for keeping it looking pristine.

How can I remove window films?

If you plan on changing the window films or removing them completely, you'll need to use a special window film remover solution.

This will gently dissolve the adhesive and make it easier to peel off the film without damaging your windows. We generally don't recommend DIY window film removal, as it's best left to the professionals.

Will window film damage my windows?

No, not as long as they're installed correctly. If you hire a reputable window tinting company like Blackout® in Gilroy, you can rest assured that your windows will stay in perfect condition!